I'm sad to announce that Jack Coleman will not be participating in the upcoming TV show Emily Owens, M.D. in the end. He had been cast and filmed the pilot as a chief surgeon, but he expressed misgivings about being a part of the show in Monte Carlo:
Jack Coleman will be back in The Office for season 9. On the other hand, it is possible that he will not be part of the cast of Emily Owens MD, a new show that will start in fall on CW. The role could disappear or be re-cast. To be continued…
Source: Allociné
Emily Owens Showrunner Jennie Urman confirmed this in a Tweet today: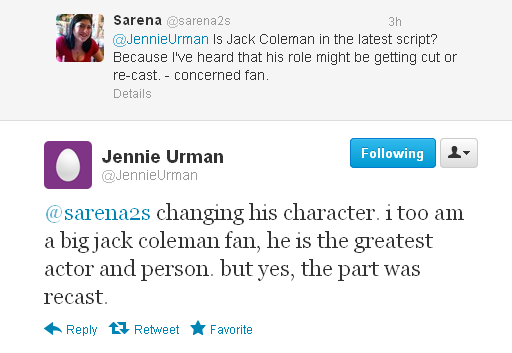 Source: Jennie Urman's Twitter
We, as fans of Jack, were really looking forward to seeing this show and happy for him to have got a role as a cast regular. So there's lots of disappointment and sadness going around at the moment amongst the Jack-fandom.
Here's hoping he gets some kick-ass roles in other shows this year, as he really deserves them!